Return to Nav
in Iowa Park, TX - 301 Southwest Access Roa
Info
7:00 AM
-
1:00 AM
7:00 AM
-
1:00 AM
7:00 AM
-
1:00 AM
7:00 AM
-
1:00 AM
7:00 AM
-
2:00 AM
7:00 AM
-
2:00 AM
7:00 AM
-
1:00 AM
Drive-Thru Hours
Day of the Week
Hours
Mon

7:00 AM

-

1:00 AM

Tue

7:00 AM

-

1:00 AM

Wed

7:00 AM

-

1:00 AM

Thu

7:00 AM

-

1:00 AM

Fri

7:00 AM

-

2:00 AM

Sat

7:00 AM

-

2:00 AM

Sun

7:00 AM

-

1:00 AM
Dine-In Hours
Day of the Week
Hours
Mon

7:00 AM

-

10:00 PM

Tue

7:00 AM

-

10:00 PM

Wed

7:00 AM

-

10:00 PM

Thu

7:00 AM

-

10:00 PM

Fri

7:00 AM

-

10:00 PM

Sat

7:00 AM

-

10:00 PM

Sun

7:00 AM

-

10:00 PM
Drive-Thru Hours
Day of the Week
Hours
Mon

7:00 AM

-

1:00 AM

Tue

7:00 AM

-

1:00 AM

Wed

7:00 AM

-

1:00 AM

Thu

7:00 AM

-

1:00 AM

Fri

7:00 AM

-

2:00 AM

Sat

7:00 AM

-

2:00 AM

Sun

7:00 AM

-

1:00 AM
Dine-In Hours
Day of the Week
Hours
Mon

7:00 AM

-

10:00 PM

Tue

7:00 AM

-

10:00 PM

Wed

7:00 AM

-

10:00 PM

Thu

7:00 AM

-

10:00 PM

Fri

7:00 AM

-

10:00 PM

Sat

7:00 AM

-

10:00 PM

Sun

7:00 AM

-

10:00 PM
What's Happening Now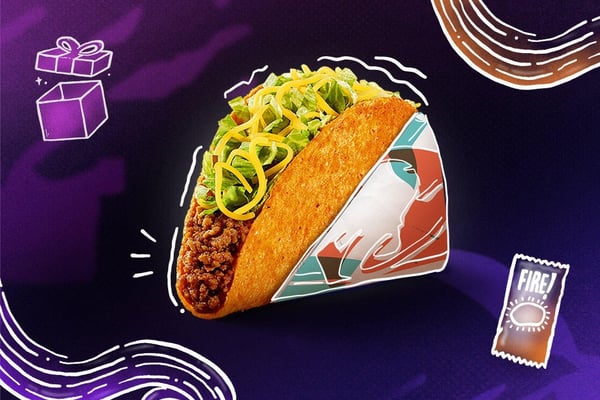 GET A FREE DORITOS® LOCOS TACOS
Only for new Taco Bell Rewards (Beta) members in the Taco Bell App.*

*Reward for one free Seasoned Beef Doritos® Locos Tacos only at participating U.S. Taco Bell® locations, valid for 14 days from issuance. Must have a registered Taco Bell account. No cash value. Taco Bell Rewards (Beta) program is available for a limited time only and is subject to termination at Taco Bell's discretion and terms and conditions.
Learn More
About Taco Bell
301 Southwest Access Roa
Visit us or order online at Taco Bell in Iowa Park, TX
Find your nearby Taco Bell at 301 Southwest Access Roa in Iowa Park, TX. We are open early with breakfast hours and if you find yourself out and about late at night, you can still order at our
drive-thru
. You can also order online and skip our line inside. We're serving all your favorite menu items, from classic
burritos
and
tacos
, to new favorites like the
Crunchwrap Supreme®
and
Chalupa Supreme
. From breakfast to late night, Taco Bell serves made-to-order and customizable tacos and burritos, vegetarian options, drinks and sweets. Make sure to visit our
Store Locator
to find the Taco Bell® breakfast closest to you. Our Cravings Value Menu features classics like the Cheesy Bean and Rice Burrito, and other Taco Bell favorites. If you're looking for a delicious choice for
Mexican inspired food
or
fast food
close to the Iowa Park-area, Taco Bell is nearby! So come inside or visit our
drive-thru
at this Iowa Park Taco Bell location.
Order Online Now
Work With Us at Taco Bell Iowa Park
"Think outside the bun" and start your new career with Taco Bell!

We're looking for Service and Food Champions who love serving customers, have experience in the restaurant industry and who want to be a part of the largest restaurant company in the world! If you want to build a great career while providing fast, fun and friendly service to our customers, Taco Bell is the perfect place to learn, grow and succeed!
Nearby Taco Bell Restaurants