Return to Nav
in Port Barre, LA - 17621 Hwy 190
Info
7:00 AM
-
1:00 AM
7:00 AM
-
1:00 AM
7:00 AM
-
1:00 AM
7:00 AM
-
1:00 AM
7:00 AM
-
2:00 AM
7:00 AM
-
2:00 AM
7:00 AM
-
1:00 AM
Drive-Thru Hours
Day of the Week
Hours
Mon

7:00 AM

-

1:00 AM

Tue

7:00 AM

-

1:00 AM

Wed

7:00 AM

-

1:00 AM

Thu

7:00 AM

-

1:00 AM

Fri

7:00 AM

-

2:00 AM

Sat

7:00 AM

-

2:00 AM

Sun

7:00 AM

-

1:00 AM
Dine-In Hours
Day of the Week
Hours
Mon

7:00 AM

-

10:00 PM

Tue

7:00 AM

-

10:00 PM

Wed

7:00 AM

-

10:00 PM

Thu

7:00 AM

-

10:00 PM

Fri

7:00 AM

-

10:00 PM

Sat

7:00 AM

-

10:00 PM

Sun

7:00 AM

-

10:00 PM
Drive-Thru Hours
Day of the Week
Hours
Mon

7:00 AM

-

1:00 AM

Tue

7:00 AM

-

1:00 AM

Wed

7:00 AM

-

1:00 AM

Thu

7:00 AM

-

1:00 AM

Fri

7:00 AM

-

2:00 AM

Sat

7:00 AM

-

2:00 AM

Sun

7:00 AM

-

1:00 AM
Dine-In Hours
Day of the Week
Hours
Mon

7:00 AM

-

10:00 PM

Tue

7:00 AM

-

10:00 PM

Wed

7:00 AM

-

10:00 PM

Thu

7:00 AM

-

10:00 PM

Fri

7:00 AM

-

10:00 PM

Sat

7:00 AM

-

10:00 PM

Sun

7:00 AM

-

10:00 PM
What's Happening Now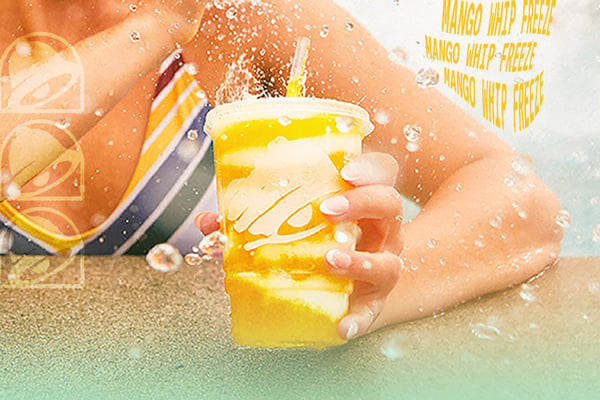 SIP MANGO. CHASE SUNSETS.
Get your summer adventures going with the new Mango Whip Freeze.
Order Now
At participating U.S. Taco Bell® locations for a limited time only, while supplies last. Contact store for hours and participation which vary. Product contains no fruit juice.
About Taco Bell
17621 Hwy 190
Visit Us or Order Online at Taco Bell in Port Barre, LA
Order Online Now
Nearby Taco Bell Restaurants
Work With Us at Taco Bell Port Barre
Start With Us, Stay With Us
"Think outside the bun" and start your new career with Taco Bell!

We're looking for Service and Food Champions who love serving customers, have experience in the restaurant industry and who want to be a part of the largest restaurant company in the world! If you want to build a great career while providing fast, fun and friendly service to our customers, Taco Bell is the perfect place to learn, grow and succeed!